RedSky Weather Radar Quick Start
Initial Screen
RedSky's initial screen shows a map of the United States with many blue dots on it.
Each blue dot represents a National Weather Service Radar site. Touch a blue dot to open up a small info window describing the site. Touch the green play arrow icon to load available radar data for that site. A long press forces the imageset to reload.
The radars are overlayed on a standard Google Map View: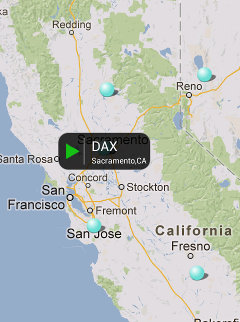 Drag your finger to move around
Double-tap or pinch the screen to zoom in
Reverse pinch to zoom out
Tap a radar site (blue dot) to select it. Press the filmstrip icon to load the animation.
A long press on either load button (US mosaic or filmstrip) forces a reload
Controls
Toggles map and satellite views
Toggles your current location
Toggles National Mosaic Image
Activates user preferences.
Weather Products
RedSky Weather Radar supports 7 different National Weather Service radar products including:
NOR (124 NM Reflectivity)
NOZ (248 NM Reflectivity)
NCR (Composite Reflectivity)
N1P (1 Hour Precipitation)
NOS (Storm Relative Velocity)
NOV (Velocity)
NTP (Storm Total Precipitation)
Select the radar product by touching the radar product label in RedSky's main title bar.
Preferences
The preferences screen is largely self-explanatory.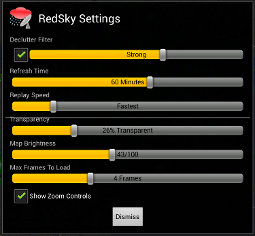 Declutter filter attempts to remove radar noise from the image frames. It slows down loading slightly but can significantly improve the results.
Refresh time controls the length of time between reloading.
Replay speed controls how fast the animations will play.
Transparency controls how the transparency of the animations.
Map Brightness controls how dark/light the underlying map will be. Certain radar features may be more visible when the map is darkened.
Max Frames to Load controls how many frames will be loaded. Images are cached to reduce bandwidth.
Show Zoom Controls toggles the map's built-in zoom controls.
Tap the title logo to see the about screen
Miscellaneous
RedSky requires Coarse Location, Internet and Network State permissions.
Contact us: redsky@tinfoilninja.com